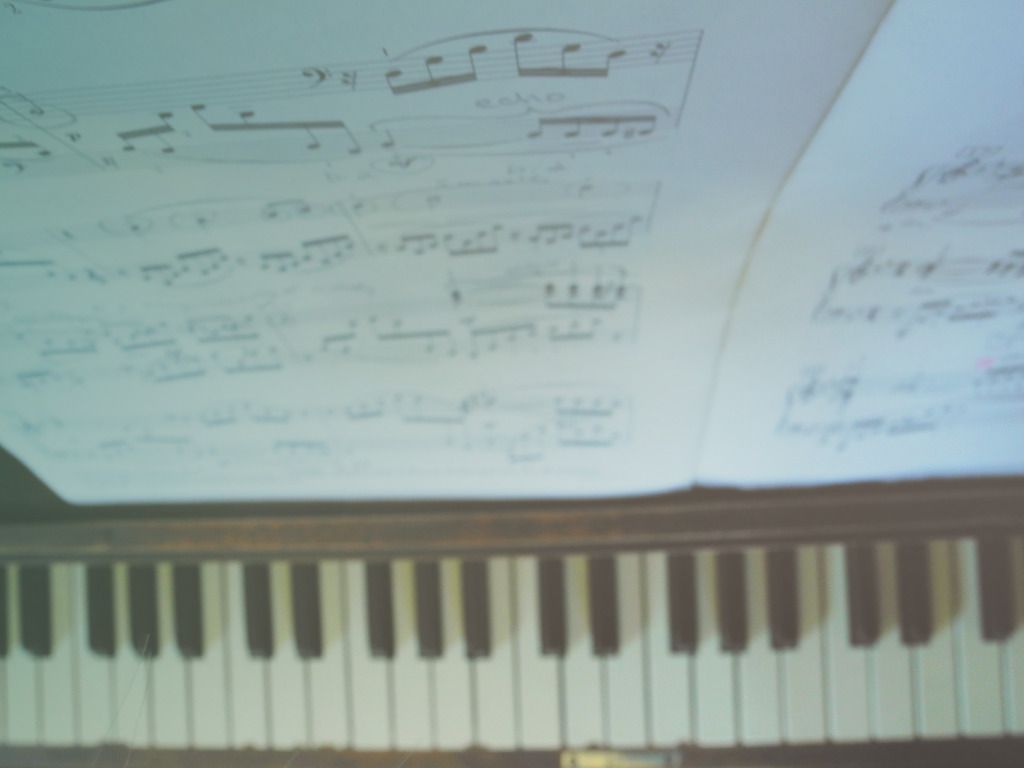 Starting in grade two, I went across the street to the church during lunch hour every Tuesday for my piano lessons. My piano teacher's name was Maylene, and I adored her.
No, you read that wrong. You read it like, "adored." I mean, though, "
adored
."
Because school was for me, at best, tricky. I wasn't the prettiest or the coolest or the most athletic--I learned that right out of the gate. I wanted to be the best at something, but I wasn't the best at anything. If anything, I thought, I was the very worst.
I went to my lessons a half hour early and would sit on the steps outside the sanctuary and eat my lunch there and read a book. At 12:30, Maylene would call me in and I came, with my pink beginner books in a quilted red case that my grandma had sewn for me.
(It had my name on it in glitter glue.)
I remember the way she made me play it again if I played it wrong, and the way she knew I wasn't counting sometimes even though I said I was, and the way she could actually tell if I'd practised that week or not. I remember the way she got more excited than even I did when I finally understood something for the first time, and the way she was so happy to reward me when I finished a book or learned a hard piece - just seemed happy to see me each week. I remember how she made me feel like I was the best student she had, and I remember so looking forward to that half hour every Tuesday. I remember practising so hard because I wanted to impress her so much. I remember feeling important and loved and talented.
And I remember once coming to my piano lesson in tears, because a boy had told me that I had big ears and would never be pretty. It's funny, because I don't remember what Maylene said to me or how she handled it, but I remember leaving feeling better.
I'd actually forgotten that last one until this past year when one of my students came for his lesson, threw his backpack on the floor, slammed his elbow as hard as he could on the lower end of the piano, making a terrific minor-sounding noise, and burst into tears (school is not easy, i don't think, for
anyone
all of the time).
I don't remember what I said or how I handled it, but I absolutely remember, only a few minutes later, when he wiped the snot and tears off of his face and gave me the biggest smile I'd ever gotten from him.
"You gonna be ok?" I asked.
"Oh yeah," he said, beaming.
And it was just such a little moment, but suddenly I remembered my own moment like that with
my
piano teacher and it was like
Lion King
circle of life stuff, piano teacher edition. I wanted to run back home right then and give maylene a hug.
I'm teaching my first couple of piano lessons of this school year today.
I'm so ready for it. I've missed the small, strange people who come pounding up my porch steps at their appointed times, with their big personalities and little quirks and superhero backpacks. I've missed hearing about his day at school or her weekend with her grandma, his immense frustrations with a teacher at school, her awards and good marks. I've missed the kid who saves me cookies from his lunch, clenched tightly in a sweaty palm for who knows how long, melty and sticky, and excitedly watches me eat every last bit because he knows how much I love chocolate. I've missed the one who can't sit still (but tries to really, really hard), and the one who secretly makes me necklaces out of paper clips at his desk during school, and the one who wants to learn songs about six grades ahead of her level instead of this little kid music, and who learned the first six bars of Fur Elise by ear in a week just to prove to me that she could.
I love this job.
Because I love these kids.