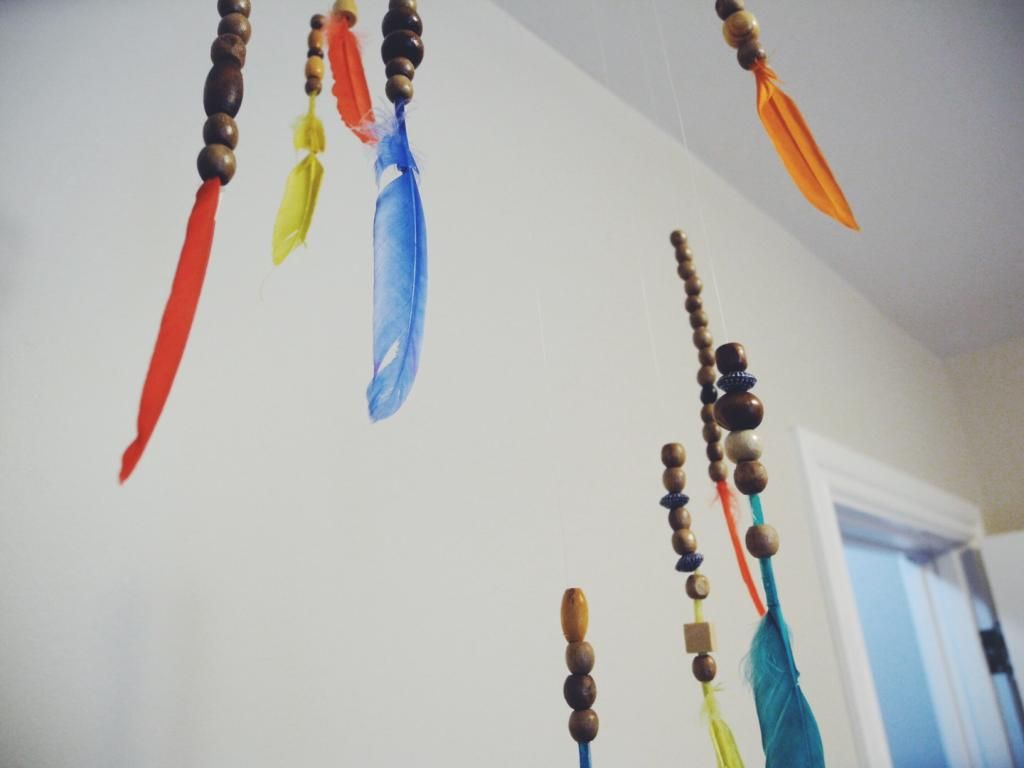 Last night, I rediscovered this box of neon feathers in my office closet. I'd found them a few years ago at Dollarama and bought them with absolutely no plan in mind simply because they were both neon
and
only a dollar. They were stacked, neatly and auspiciously, on top of a box containing the remnants of an old bead curtain that fell apart in one of my many moves over the years.
I'd been looking online for ideas to make a mobile to hang in the nursery, but everything I came across was made of tissue paper or pom-poms or was airplane-themed or boat-themed or elephant-themed or was too much work or too much money or whatever--which are all things that are so totally fine and cute and good and all that, only not for me.
Neon feathers and beads, on the other hand. Thrifty and quick and a little bit tacky. So, I mean, perfect. (In a job interview once, I was asked to describe myself in three words. At the time, because it was, after all, a job interview for a job I actually wanted and needed, I probably said something like, "Punctual and efficient and motivated." But I should have probably said, "Definitely thrifty and maybe kind of lazy and a little bit tacky.")
So I dug further and came up with fishing line and two BBQ skewers, and spent the rest of the evening with my feet on the coffee table, threading beads and tying knots and listening to Nick Drake and eating chocolate chips. And this is what I came up with:
It might not be worthy of the chevron/owl/airplane-themed Pinterest boards I've been seeing around the internet lately, but I'm happy with the way that it moves when I open the window and pleased as punch with all the bright colours. Plus, the whole thing probably ended up costing me less than 40 cents. So. There
is
that.