I'm done teaching piano lessons now until...well.
Until I feel up to it again, I guess. I'm done at the cable station; and I haven't been as busy with side projects lately. I tackled those boxes in the basement last night, and I've been deep cleaning every square inch of this house, slowly but surely. Washing blankets and tiny little sweaters, organizing and hanging pictures and baking a little.
I bought a box of diapers.
There was a middle-aged man standing in the diaper aisle with me. We stood there beside our empty shopping carts with our hands on our hips, red-faced and confused. He looked over at me, "First one?" I nodded. "Oh," he said, dissapointed. "I don't know what I'm looking at here."
"Me neither."
It's like time is moving in slow motion and simultaneously rushing at me like a rhinoceros with steaming nostrils. I have eight days left until my due date. Eight days is a century and a second all at once. I'm thankful for both the time and the lack of it.
And today, I found myself with a little bit extra. So I played dress-up.
When mom found out I was pregnant, she gave me a bag of her old maternity clothes. She laughs at the things that pregnant women wear now. She says, "You girls with your tight shirts over your big bellies. We hid
our
bellies under tents."
Tents with shoulder pads. It's true. As if you're not already swollen and beluga-like enough when you're nine months pregnant, you sewed shoulder pads into your tent dresses too in the eighties.
Granted, those things were comfy. Much comfier than skinny jeans. I tried them on today. With shoes that also belonged to mom when she was my age. I couldn't help but add a belt, just to tame the tenty-ness. (Note: I hereby promise never to be a fashion blogger. Posing is hard. Especially in a shoulder-padded tent and nine-month belly.)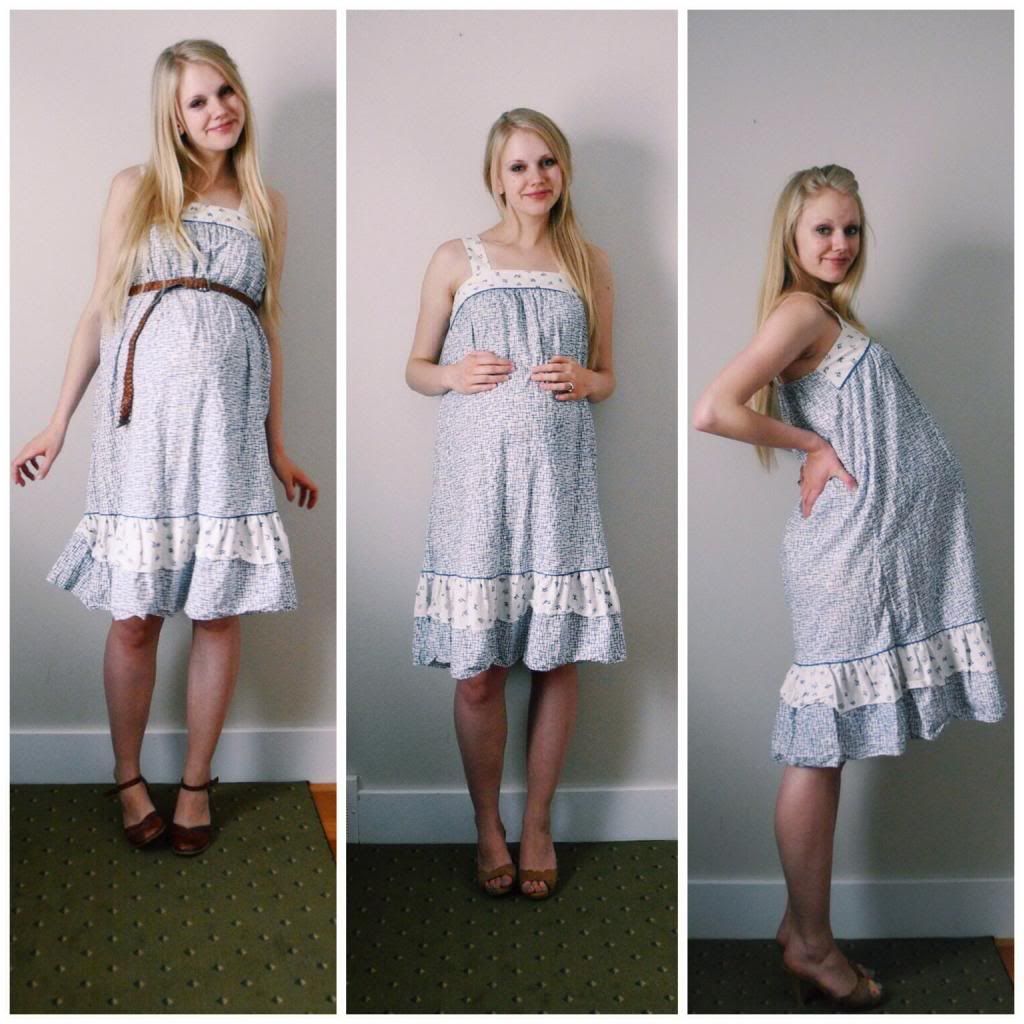 I'm wearing my regular clothes again. A waffle shirt and blue jeans. I'm significantly less balloon-like, but am also feeling a little lacking in the shoulder department. Ah, to be an eighties chick.